Machine taps with spiral flute, 40°, universal, coating TiCN
MT21585 TICN
High-speed steel HSSE V3
DIN 371, DIN 376








New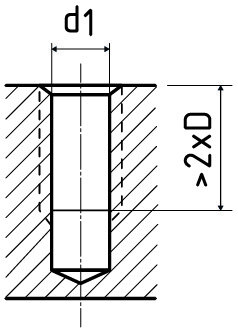 D
6 H
P
d
l1
l2
d1
Z
a
Item code
On stock
M3
0,5
3,5
56
9
2,5
3
2,7
MT21585.030 TICN
Yes
M4
0,7
4,5
63
7
3,3
3
3,4
MT21585.040 TICN
Yes
M5
0,8
6
70
13
4,2
3
4,9
MT21585.050 TICN
Yes
M6
1
6
80
15
5
3
4,9
MT21585.060 TICN
Yes
M8
1,25
8
90
18
6,8
3
6,2
MT21585.080 TICN
Yes
M10
1,5
10
100
20
8,5
3
8
MT21585.100 TICN
Yes
M12
1,75
9
110
23
10,2
3
7
MT21585.120 TICN
Yes
M14
2
11
110
25
12
3
9
MT21585.140 TICN
Yes
M16
2
12
110
25
14
3
9
MT21585.160 TICN
Yes
M18
2,5
14
125
30
15,5
3
11
MT21585.180 TICN
No
M20
2,5
16
140
30
17,5
3
12
MT21585.200 TICN
Yes
Cutting conditions
| Material | Strength |
| --- | --- |
| P.2 | General construction steels, steel castings | ≤ 850 N/mm² |
| P.3 | Tool steels low alloyed | ≤ 1100 N/mm² |
| P.4 | Heat treatable steels | ≤ 900 N/mm² |
| P.5 | Tool steels high alloyed | ≤ 1100 N/mm² |
| P.6 | Tool and treated steels | > 1100 N/mm² |
| M.1 | Corrosion- and acid-proof steels | ≤ 750 N/mm² |
| M.2 | Corrosion- and acid-proof steels | 750 - 850 N/mm² |
| M.3 | Corrosion- and acid-proof steels | > 850 N/mm² |
| K.1 | Cast iron (≤ 240 HB) | ≤ 820 N/mm² |
| K.2 | Cast iron (> 240 HB) | > 800 N/mm² |
| N.1 | Aluminium, Aluminium cast alloys Si (Si ≤ 6%) | ≤ 400 N/mm² |
| N.2 | Aluminium cast alloys Si (Si ≤ 12%) | ≤ 600 N/mm² |
| N.4 | Cooper-zinc alloys, cooper-tin alloys | ≤ 800 N/mm² |
Product attributes

Type UNI
more +
Designed for universal applications

Chamfer
more +
For straight or spiral flutes, for short chipping materials.

Lead of screw thread

ISO Metric coarse thread

TiCN coating
more +
Provides high hardness and at the same time good toughness. Its advantage is in low friction ratio. It is applicable for boring of steels with high strength. It has a lower temperature stability – the cooling is necessary (for example with emulsion).
Tool geometry
more +
Helix angle = 40°.

Angle of thread

Thread standard

Materiál HSSE V3